This is the first of two on the topic of helping an older parent downsize and relocate.  
Where do we begin? I mean really, where do we begin? In the attic? the closet? Asking family members who wants what? Where do we begin?
When parents decide it is time to move to simpler living, whether it be into a senior community or just into a smaller, more manageable house, the question of what to do with all that stuff steps into our thoughts like a the proverbial elephant in the room.
I suggest that we begin by getting our brains into the mindset that this is an opportunity to be creative, not that we are destroying a home.
Opportunity you say? Yes! So many people view moving later in life as a loss. But there are some basic ways to see this as a tremendous opportunity as well. And this mindset can make the process much less stressful.
Opportunity: "Rightsize"
When we are young we think expansively - moving to bigger and bigger homes both to accommodate our growing families and as an expression of our social status. However, later in life we usually no longer need 4 bedrooms and a bonus room filled with items we rarely use. 'Rightsizing' means adjusting your living space and accumulated belongings to suit your current needs. It was right to grow your homes when young and one could say it is right to reduce the space for living as you age.
Oppurtunity: Be Generous
Here is a great opportunity to be generous. Instead of waiting until the will is read to give things to family, do it now -  It's much more satisfying! I had a client, who had 10 grandchildren, make a box of 6 christmas ornaments for each one as their christmas gifts last year. What a memorable gift! Each child has a special something from their grandparents to remember in years ahead AND my client got rid of 60 Christmas ornaments!
Opportunity: Unshoulder the burden of "I should…"
I have a theory that around 35% of the stuff in our homes are "should's" - "I should fix that old rocker." "I should get back to scrapbooking." "I should use my good china everyday." Oh I feel heavier already just reading that. So, let it go. Admit that you will not fix, do, or use these things and let them go to another person (family or charity) that will fix, do, or use these things! People often say that they feel 20 lbs lighter after downsizing . . . it's all karmic weight.
Opportunity: Live Simply
The things in our lives bring obligation. We must maintain them, clean them, display them, move them, use them, put them away. Less is more. Less is more difficult too. We love our stuff! It defines us. But living more simply gives you more room for other things. Suggested reading: www.becomingminimalist.com.
Getting Your Mind Around It
I'll leave you with this. Our homes are an expression of our identities. We decorate and buy furniture and linens that express our tastes, travels, history, families. When we are asked to downsize it is like we are giving up part of our identities. It's like Sophie's choice! Choose between your beloved things! But I say it need not be so negative. It's like this: all our lives we are writing the epic stories of our lives as expressed in our homes - details and details added to the epic tales! But now, later in life, we are asked to write haiku. It is time to choose your words and your things wisely.
culling my things now
joyfully, seeing new space
seems less is now more.
---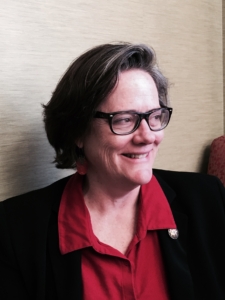 Jennie Alwood is president of Here to Home, Inc. and has implemented close to 500 senior moves since she began her business in 2008. She is a SMMc (Senior Move Manager, certified) and a member of the National Association of Senior Move Managers (NASMM).