If you're like me, you hate all those pop-ups you get suggesting (or sometimes forcing) that you install an upgrade such as Windows, Java, browsers, phone apps, etc, etc.  And quite often they don't convince you why you'd want to upgrade (will life be better?) ... they just tell you to do it.
Well SAS is different!
I can always find a list of What's New in the latest SAS release, and the new releases always have exciting new features that compel me to want to upgrade.
For example, here are 3 great new enhancements that were added to SAS/GRAPH in SAS 9.3.  In my opinion, these 3 features alone make it worth upgrading.
Smooth Lines
In previous versions of SAS, angled lines in your graphs might have looked a little jagged -- in SAS 9.3 the lines are now smooth!  This happens automatically ... just rerun your code in 9.3, and you get smooth lines!  (This is for device=png, which is the SAS/GRAPH default, and is the device I use in 99.9% of my graph examples.)
Here's a before and after comparison: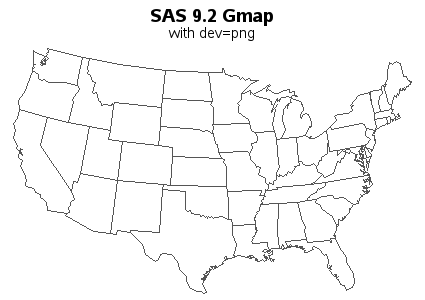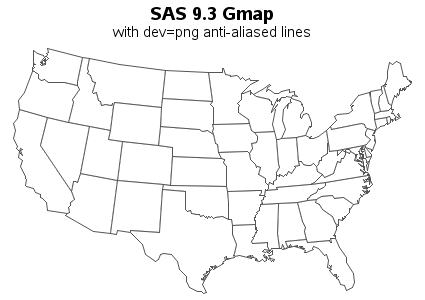 Transparent Colors
SAS 9.3 now supports the use of transparent colors.  Similar to specifying a color as CXrrggbb, you simply specify it as ArrggbbXX (where XX is the level of transparency).  This opens up many new possibilities in your graphics.  Here is an example: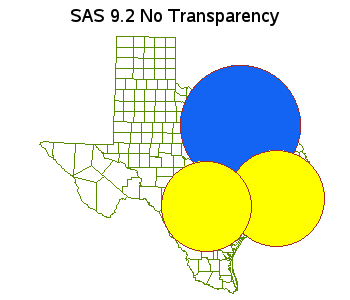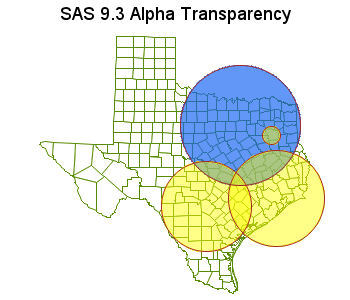 Legend Ordering
This next feature is a personal favorite that I plan to use a lot.  Others might not even notice this feature, but let me try to convince you how cool it is...
In a Gchart bar chart, the bar segments are stacked alphabetically from bottom to top.  And by default, if you put a legend on the side of a plot, and make it 1 column wide, the legend items are stacked alphabetically from top to bottom.  Although the graph is technically correct, I think it's a lot more intuitive and easier to read (imho) if the legend items are stacked in the same order as the bar segments.
Previously, you had to hard-code all values using the order= option in a legend statement to reorder the legend (this could be cumbersome if/when your data changes).  In SAS 9.3 you can simply use the new descending legend option!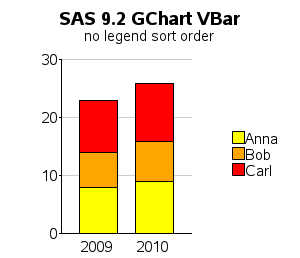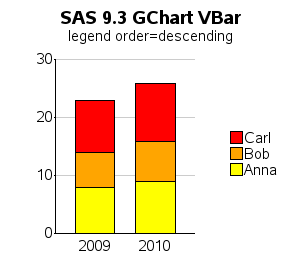 There now - doesn't that make you want to upgrade?!?  I invite you to read more on the official SAS/GRAPH What's New page, and see demonstrations of the features (along with sample code) in my samples collection.