'Twas the week before Christmas, and all through the world ... dot-matrix printers were humming as Santa's naughty/nice list was unfurled...
Can you imagine what it must have been like years ago when Santa had to maintain his naughty/nice list by hand, with a feather quill pen?!?  Or even these days when he could use a printer - how often would he have to re-print the list to keep it up to date?  And not just the naughty/nice list - he's got hundreds of things he needs to keep track of!
My conclusion is that Santa *must* be using computers!
And to that end, I've used SAS software to create a prototype Information Dashboard that might help Santa keep track of everything for the big night!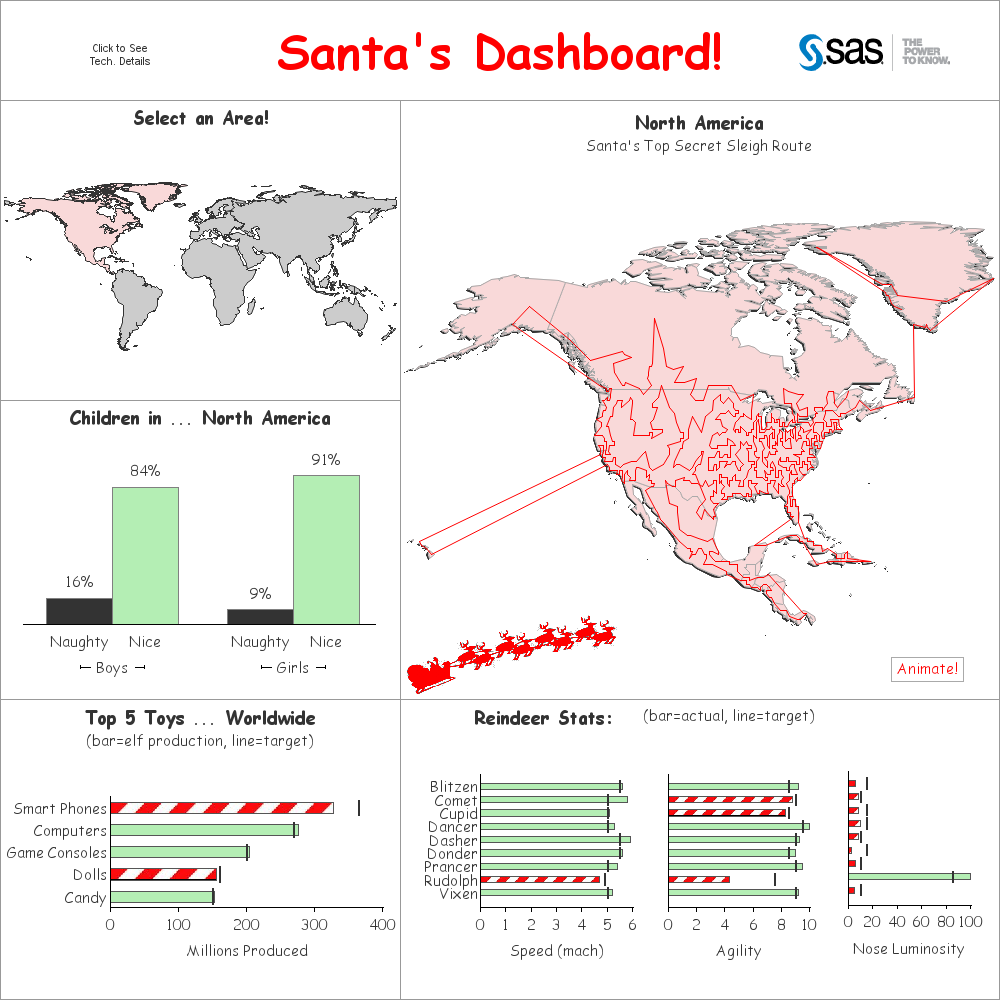 You can click on the dashboard image above to see the interactive prototype!
Here are some features of the prototype dashboard:
You can click on a continent in the small map (top/left) to see a forecast of Santa's top secret route through that continent.
You can hover your mouse over countries in the map to see the country names, and click on them to see images of Christmas traditions in that country (via a Google search).
Also, a naughty/nice bar chart is shown for each continent, so you can easily compare the boys -vs- girls.
The bar chart in the bottom/left shows the elves' production of the top 5 toys, versus the target goal.
And the bar chart in the bottom/right shows some measurements of the 8 reindeer, versus their target values.
Most everything in the dashboard has some form of hover-text and/or drill down links.
What else might Santa want to track in his dashboard? :)
Be sure to add this dashboard to your browser "favorites" so you can easily find it on Christmas Eve, because (if all goes according to plan) this dashboard will go "live" so that you (and your kids) will be able to see Santa's route as he makes his way around the globe!  How cool is that?!? :)
-----
Update:  6:30am U.S. Eastern Standard Time 24Dec2012 ... It's now 12:30am in New Zealand and Santa has started his trip! ... And Santa's Dashboard has gone *Live* (see the Oceania continent dashboard) ...
http://robslink.com/SAS/democd37/santa_96.htm
Note that if you can't see the new/updated maps, you might need to force your browser to refresh/replace the old image that's in the cache -- you can usually do that by holding down the "Ctrl" button on your keyboard while you click the browser's "Refresh" button with your mouse.  The maps will be updated approximately every 30 minutes.
-----
Update: 8:30am U.S. Eastern Standard Time ... Santa is now working on the East Coast of Australia!
-----
Update: 9am U.S. Eastern Standard Time ... Santa continues to work his way across Australia, and has also started working on Japan!
-----
Update: 11am U.S. Eastern Standard Time ... Santa has finished Australia, and is working his way across China!
-----
Update: 7:19pm U.S. Eastern Standard Time ... Santa is mid-way through Spain!
-----
Update: 11:45pm U.S. Eastern Standard Time ... Santa has reached the U.S. East Coast!
-----